Since 2020, Shanghai Hangxin, a subsidiary of Hangxin, has carried out extensive cooperation with American company, CSafe global, LLC, and completed the acceptance, maintenance and shipment of hundreds of containers. Shanghai Hangxin was orderly filled with containers from CSafe, and the project smoothly transitioned from the early stage of small-batch containers repair to the large-scale containers maintenance stage which brought the cooperation between the two parties to a new level.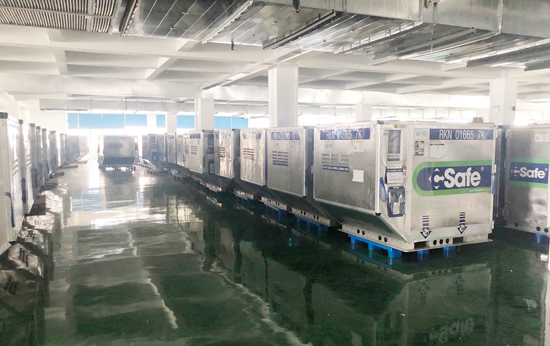 Shanghai Hangxin received the certificate of authorized service center issued by CSafe on August 21, 2020, marking a new stage of the two parties' cooperation in RKN / RAP temperature-controlled container maintenance project.
Founded in 1979, CSafe is a leading supplier of high-performance air cargo technology and cold chain solutions, and the only manufacturer of active and passive cold chain packaging systems.
In August 2019, Shanghai Hangxin passed the quality audit of CSafe supplier and became the OEM's exclusive authorized maintenance service center in China. Shanghai Hangxin provides comprehensive maintenance and support services for RAP and RKN airborne temperature-controlled containers produced by CSafe.
Over the past year, Shanghai Hangxin project team has communicated with CSafe company on the core contents including GTA agreement, quality audit, personnel training and business process. Shanghai Hangxin has been highly recognized and trusted by CSafe with its excellent comprehensive strength.
In June 2020, trucks loaded with RKN containers entered the Shanghai Hangxin's plant area, and the company welcomed the first batch of products sent for repair by csafe. The electrical team attached great importance to it, and completed product fault detection and other related work in accordance with the requirements of the manual and training content at the first time, and maintained close online communication with the customer's technical engineers to successfully complete repair of the first batch of products. Through the communication and coordination between the aviation material warehouse team and the logistics freight forwarding company of the customer, the first five products were successfully delivered in July, and the entire business process was successfully closed. After reviewing the maintenance process, maintenance quality and logistics delivery of the first batch of products, csafe company highly recognized the business capability of Shanghai Hangxin and agreed to issue an authorized maintenance service station certificate for Shanghai Hangxin.
Shanghai Hangxin adheres to the value of "Devotion to life, Creation of value", and CSafe regards "To provide peace of mind by offering best-in-class temperature management solutions for the delivery of life-enhancing products" as the mission of the company. In the future, Shanghai Hangxin and CSafe will work together sincerely for mutual benefit and win-win cooperation.